Back to Talking Points
'THE TIMES THEY ARE A CHANGIN'!
October 26, 2016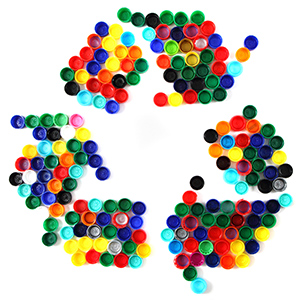 As Bob Dylan once wrote in his song 'The Times They are a Changin' and in the UK we are becoming a nation that cares about our environment and are trying to save energy where we can whether it's through solar panels on our roofs, turning electricity off when we are not using it or recycling our household rubbish where we can. Is it surprising then, that we look to manufacturing to do the same? One of the trends during 2016 in the plastics industry is to use recycled plastic when plastic injection moulding new products and there is more than just the environment to save!
What is plastics recycling?
Through the domestic, commercial and industrial waste and recycling streams the recovered polymers are segregated by type and colour, then granulated, washed and extruded , finally chopped into pellets ready for re-use.
How does virgin plastic start?
Crude oil is used in the production of "virgin plastic" and therefore the price of oil will determine the price of plastic. Gas and oil is a non-renewable resource, and 4% of its production is the main source for plastic production, a further 3 to 4% is then used to provide the energy for its manufacture.
Over the last few years we have seen the price of oil increase significantly from USD 25 per barrel to a band of between USD 50 – 150 since 2005. Therefore the price of virgin plastic can fluctuate over a 12 month period. Of course recycled plastic may not suffer from this fluctuation because they are no longer directly affected. Hence not only can significant money be saved per annum but also recycling provides us with opportunities to reduce oil usage, carbon dioxide emissions and waste requiring disposal.
Energy savings
A massive 66% of the energy going into the product is saved, so as well as saving plastic waste we are also saving energy too. The best time for the recovery route for most plastics is "end of life" of a product, preferably back into a product that can be recycled repeatedly. Out of the 5 million tonnes of plastic the UK used each year 29% is estimated to be recycled or recovered plastic.
When plastic products are being made there is an inevitable amount of "scrap material" caused by the start- up and shut down of the processing machines and also quality control samples. Most moulding companies recycle their own scrap material in house.
Due to the growing demand for products with recycled content there is a commercial advantage to products with a recycling story attached to it:
Recycled plastics in sanitary ware
Through a project with WRAP (The Waste and Resources Action Programme), Ideal Standard has introduced recycled polymers into its range of valves for its toilet flushing mechanisms. This will result in over 750,000 items per annum being produced containing 95% recycled PP. This will result in an estimated carbon saving of 36.5tCO2e as well as saving 46.5 tonnes of virgin polymer from being used and an annual saving in excess of £10,00 per annum.
Counterplas uses recycled plastics for a new innovative product for domestic homes.
Counterplas manufactures an innovative product made from recycled plastics. At the end of September we won an award at the Plastics Industry Awards for the Loft Stilt-Best Recycled Plastic Product of the Year.
The 'LOFT STILT' was designed in collaboration with Birmingham Innovations to create a product that would raise the floor height in a loft space to enable the home owner to achieve a maximum insulation thickness of 270mm and maximise their energy saving efficiency whilst still maintaining a useable loft storage area. Installation costs of the loft stilt is from as little as £285 and the typical savings a homeowner can make ranges from £135 to £240 per year
The environmental advantages of this product were further maximised by specifying a recycled polymer to benefit the environment with Carbon Dioxide savings (kgCO2 per year) from 550kg to 990kg for a gas heated home or 670kg to 1200kg for an oil heated home. The range of saving is dependent on the size of the dwelling.
In a nutshell recycled polymers:
can be up to 20% cheaper than the virgin equivalent
could reduce their carbon footprint by up to 60%
will reduce the reliance on finite resources of oil
will reduce the volume of plastic waste going into our landfill sites.
Do you have a new or existing product you would like to investigate using recycled plastic for? Not sure whether it's suitable or where to start? Contact our sales and technical team, who are always happy to help. sales@counterplas.co.uk or call 0121 520 8387
Sources: