About Us
Counterplas is a leading technical plastic injection moulder operating within the UK, and has over many years built a reputation for innovation and excellence. Whether your product exists, or it is at the concept stage, we have the manufacturing and design expertise to satisfy your requirements. We have a large selection of modern, energy efficient machines that range from 40 tonne to 550 tonne.
We have built upon our plastic injection moulding competence, in recent years, to become manufacturers of complete products "Under Licence" for a number of UK based blue chip clients. This has led to a number of other competencies being developed at our strategically located West Midlands site; these include: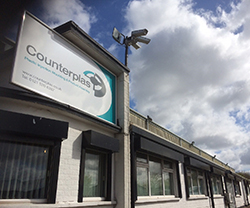 Counterplas has also developed a sophisticated supply chain management structure, that cost-effectively sources products from the UK and abroad. All activities, in-house processing and bought in services and goods are encompassed within our BS EN ISO 9001:2015 accreditation. Most importantly of all, as a leading UK based plastic injection moulder, Counterplas is a financially stable and secure company with a consistent record of profitability and investment in plant, machinery and people.